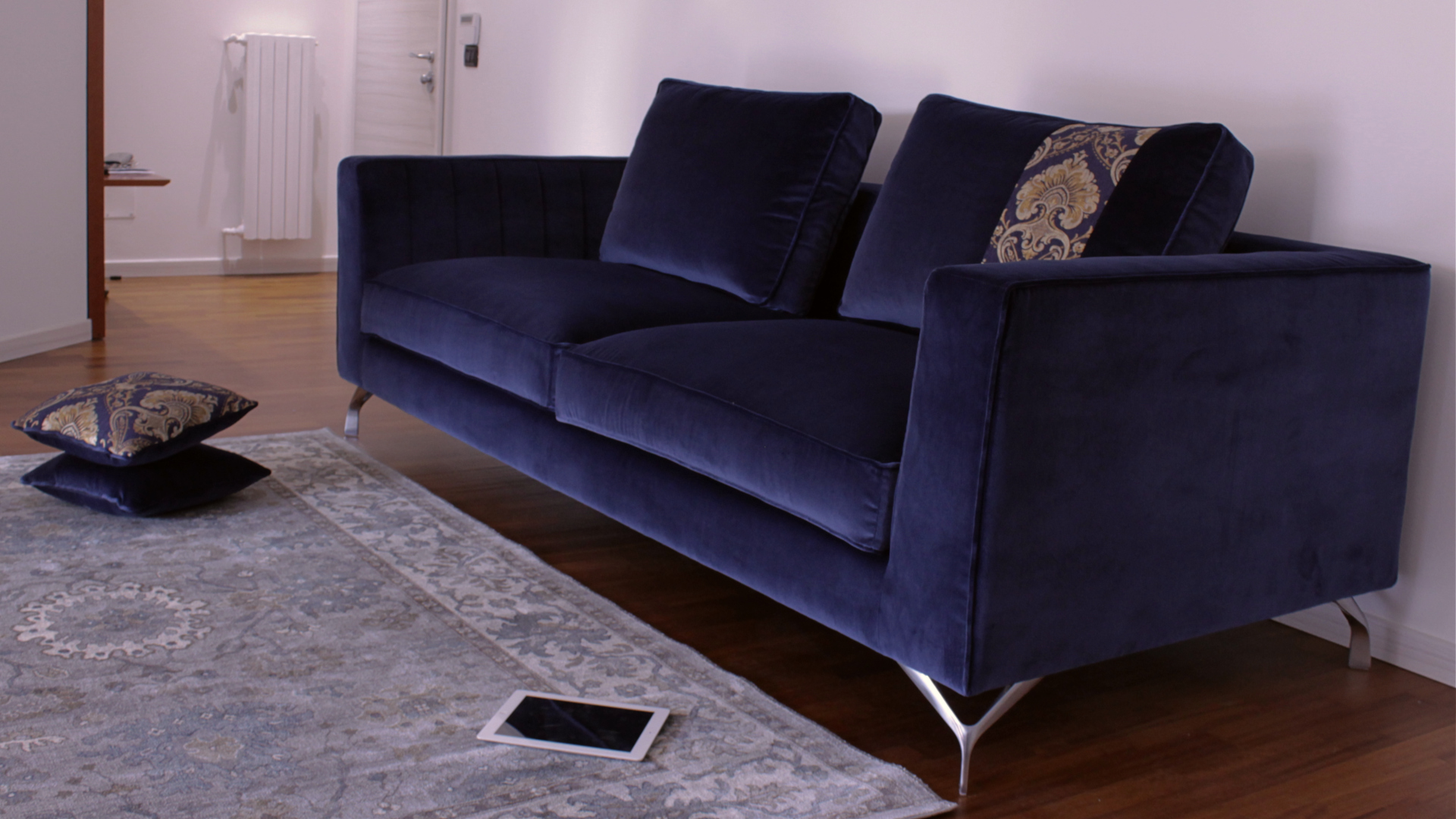 CANOVA by ORSITALIA: is an Italian handmade bespoke deep couch in blue velvet, quilted with damask inserts.Canova modern sofas in velvet are enhanced by the armrests that hves a plain cover on the outside and a quilted effect on the inside inspired by the classic Chesterfield sofa. The Y metal feet area available in three finish: bright chrome, gold or black finsh. The seat cushions, thanks to the combination of two materials, give a soft and long lasting support, the backrest cushions are in feather to let stretch comfortably in the Canova sofas. Canova modern sofa in velvet is also available as modular sofa, armchair and double bed. Canova, modern couch designs, is custom-made by Orsitalia, to suit your style, both in sizes and textile: wide choice of fake leather, velvets, wool, linen or cotton canvas, grain or vintage leather. Orsitalia offers a wide pallet of natural colours and strong ones. Canova's styles boast clean lines, simple designs and sophisticated characteristics, 100% Made in Italy by ORSI ITALIA. Orsitalia, strong of theirs experience as a producer for over 50 years's, will be able to support with technical and designs solutions starting from project to delivery.
SIZES
Sofa: L. 235 x D. 100 x H. 72 cm. to the arms / H. 92 cm. to the backrest pillows.
Available sofas, armchair and beds with sizes on demand
TECHICAL FEATURES
Structure - In solid wood or multilayer wood coated in variable-density polyurethane foam. Seat suspension provided by crossed elastic webbing. Backrest and seat covered in acrylic fiber.
Feet - Polished die-cast aluminum. Possibility of chrome-plating with colors on request. Protective polyurethane gliding in white color.
Cushions
Padding of seat cushions:
- Piumafill (special mix of feather and polyester fiber).
- Piumafill and core insert of polyurethane foam.
- Variable-density polyurethane foam wrapped in a layer of acrylic fiber.

Padding of backrest cushions:
- Piumafill (special mix of feather and polyester fiber).

Covers - Seat cushions and backrest cushions covers are completely removable in all versions (fabric and leather). Bespoke with different kind of fabrics (linen, cotton, wool); velvets; fake leathers and real leather.

HOW TO PERSONALIZE
Canova, modern design collection, is custom-made by Orsitalia, to suit your style, both in sizes and textile: wide choice of vegan leather, velvet, wool, linen, cotton and real leather . Orsitalia offers a variety of natural colours or fashion colors. The custom-made detail of the cushion of the backrest made in precious damask velvet with gold and silver touches (Renaissance style) is available in Ivory, Beige, Ecru, Chocolate, Black, Blue and Red. Metal feet can be supplied in Chrome Color, Gold color or Black color. Orsitalia's Young Designer Matteo Orlandin will support you in your customization.
CARE ISTRUCTIONS
Below, you will find advice and instructions for the care and maintenance of your product that will help you keep it in its original condition.
Velvet is known for its dense or short piled surface, which determines its brilliance and softness to the touch. The direction of the pile always follows the seat side, but if the pile is pressed in the opposite direction, lines or squashed spots can result. Remove these easily with a simple steam iron.
Place a clean DRY white cloth on the part that requires treatment. Steam treat by holding the iron just above the velvet surface for a few seconds at a time. The steam will restore the pile and
cause it to return to its natural state. For ordinary maintenance, velvet requires daily cleaning with specific soft brushes. Always brush in the direction of the pile. For dry cleaning of removable covers, contact specialised dry cleaners. Cover the Velcro fasteners, where present, with protective tape to prevent the velvet from being ruined during the washing process.