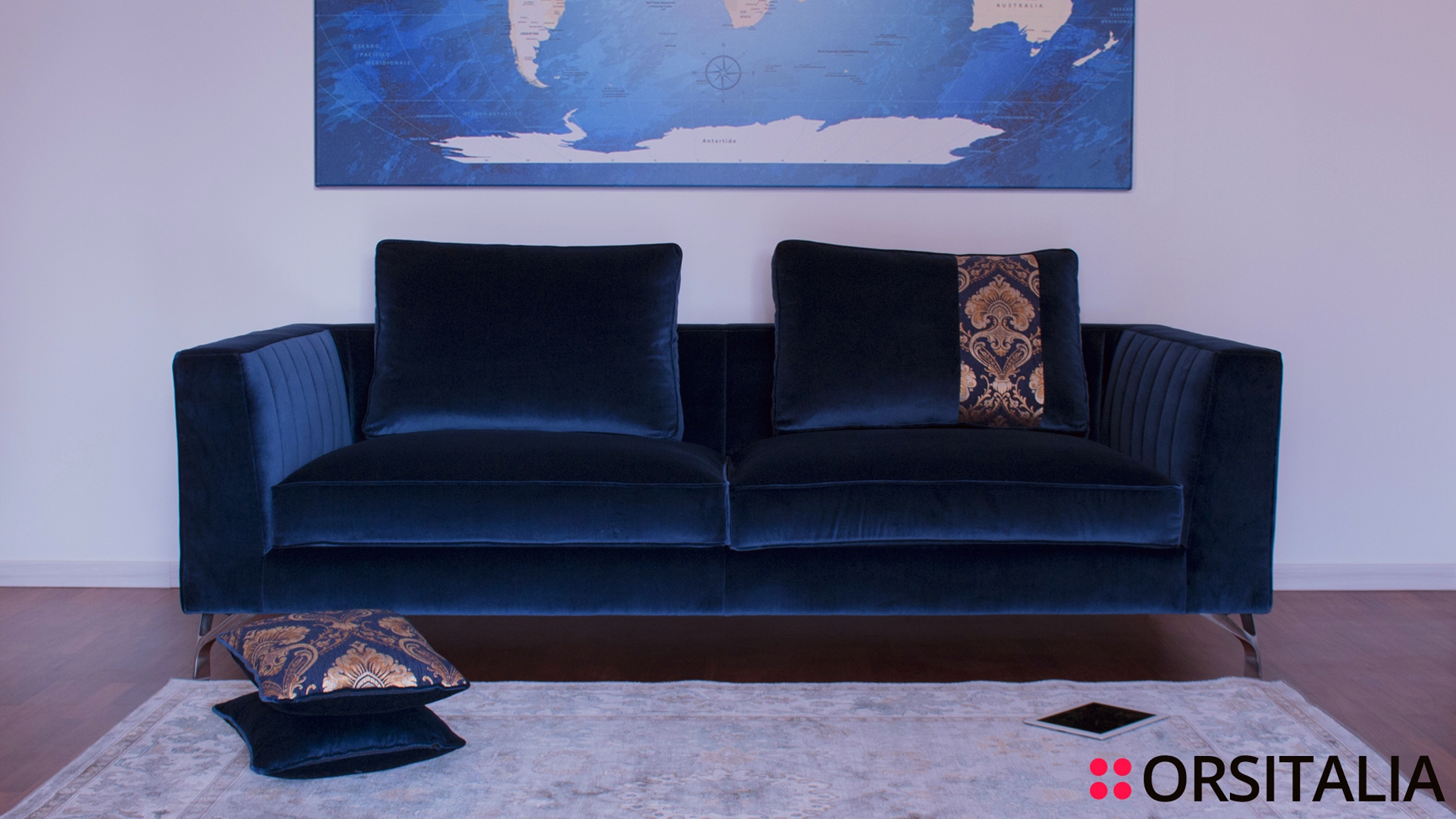 CANOVA by ORSITALIA: Modern wood and metall couches, hand upholstered with elegant embroidery, customizable Modern Italian furnishings, completely handmade in Italy. Orsitalia wants to hand down his Baroque tradition in Canova collection with little touches of modern baroque as: soft, colored, natural and stain-resistant velvet; Renaissance damask insert in a back cushion; luxury modern embroidery inside the sofa. This special mixed design works well with minimal geometric soft cushions and arms, with metal feet offered in three finish: bright chrome, gold or black. The seat cushions, thanks to the combination of two materials, give a soft and long lasting support, the backrest cushions are in feather to let stretch comfortably in the Canova sofas. It is a handmade and tailor-made work done by Orsitalia's skilled Italian handicraftsmen. Contemporary and glamourus sofas, comfortable loveseats and modern luxury armchairs of Canova's collection have been thought by Orsitalia's Young Designer Matteo Orlandin for a modern and comfortable family lounge living room. Canova, modern couch designs, is custom-made by Orsitalia, to suit your style, both in sizes and textile: wide choice of fake leather, velvets, wool, linen, cotton and grain or viintage leather. Orsitalia offers a wide pallet of natural colours and fashion colors. Canova's styles boast clean lines, simple designs and sophisticated characteristics, 100% Made in Italy by ORSIITALIA. Canova collection by Orsitalia is recommended also for Contract use thanks to custom sizes of big sofa and modular couch and to a wide choice of fire resistant fabrics and leathers. Find into Canova collection the size that fit perfectly to your project: big couches in different sizes, loveseats in different sizes, bespoke corner sofas, modular sofas, sofas with chaise longue, chaise longue, armchairs. Orsitalia, strong of theirs experience as a producer for over 50 years's, will be able to support with technical and designs solutions starting from project to delivery.
Sizes:
Sofa showed in the photo: L. 235 x D. 100 x H. 72 cm. to the arm / 92 cm. to the pillow.
Orsitalia produces Big and small couched, armchairs and double bed with sizes on demand
TECHICAL FEATURES
Structure
In solid wood or multilayer wood coated in variable-density polyurethane foam. Seat suspension provided by crossed elastic webbing. Backrest and seat covered in acrylic fiber.

Feet
Polished die-cast aluminum. Possibility of chrome-plating with colors on request. Protective polyurethane gliding in white color.

Cushions
Padding of seat cushions:
- Piumafill (special mix of feather and polyester fiber).
- Piumafill and core insert of polyurethane foam.
- Variable-density polyurethane foam wrapped in a layer of acrylic fiber.

Padding of backrest cushions:
- Piumafill (special mix of feather and polyester fiber).

Covers
Seat cushions and backrest cushions covers are completely removable in all versions (fabric and leather). Bespoke with different kind of fabrics (linen, cotton, wool); velvets; fake leathers and real leather.

HOW TO PERSONALIZE
Canova, modern design collection, is custom-made by Orsitalia, to suit your style, both in sizes and textile: wide choice of vegan leather, velvet, wool, linen, cotton and real leather . Orsitalia offers a variety of natural colours or fashion colors. The custom-made detail of the cushion of the backrest made in precious damask velvet with gold and silver touches (Renaissance style) is available in Ivory, Beige, Ecru, Chocolate, Black, Blue and Red. Metal feet can be supplied in Chrome Color, Gold color or Black color. Orsitalia's Young Designer Matteo Orlandin will support you in your customization.
SIZES
Sofa showed in the photo: L. 235 x D. 100 x H. 72 cm. to the arm / 92 cm. to the pillow.
Orsitalia produces Big and small couched, armchairs and double bed with sizes on demand