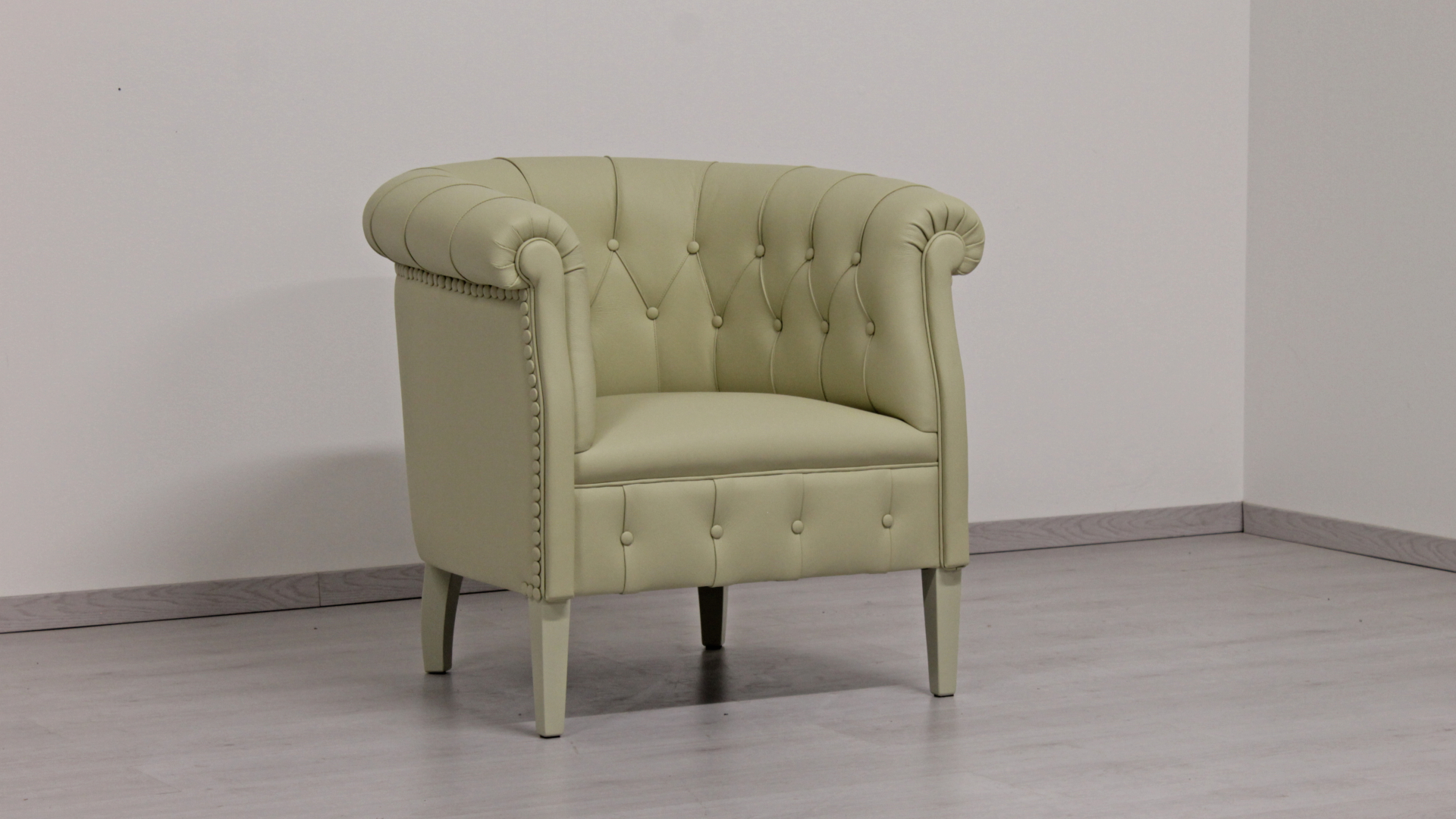 CHESTER XS little club button tufted leather nailhead chesterfield chair by ORSITALIA: bespoke rolled back and rolled arms modern hotel lobby furniture and Interior Design, tailor-made, cream leather and ivory lacquered wooden legs, chester style, Made in Italy, Italian top handicrafting Orsitalia's production. Chesterfield tub luxury little chair for entryway or bedroom or waiting room chairs, available also velvet and canvas tufted, are hand upholstered by Orsitalia in Brianza – Milano's contemporary Luxury Indoor Design District.
Chester Xs bridge chair by Orsi Italia is a passpartout arm chair in leaher or fabric recommended both for a Home Decor project (bedroom, living room, entryway, bathroom) both for a Hospitality Contracts project (hotel lobby room, night area, hotel bedroom furniture seat, reception chairs for salon or office, wedding ballroom, restaurant, waiting room of medical cosmetic surgery etc.) thanks to fire resistant velvets, Italian faux fake leathers and grain fire proof leathers offered in many colors from Orsitalia's team for customization. CHESTER XS, classic chesterfield scroll arm leather tufted accent chairs, have small sizes and therefore take up little space keeping the quality of the Italian handicrafting bespoke production guaranteed by ORSITALIA.
Into Chetserfield collection Orsitalia offers also: luxury tufted bed in leather or fabric, sofas and loveseats also with bed, chaise longue and chairs. Orsitalia's Young Designer, Matteo Orlandin, will support you in the better Designs solution for yr Indoor Project.
SIZES
TECHICAL SPECIFICATION
All ORISTALIA's models are entirely handmade, like in the best Italian artisan tradition. We start creating our masterpieces from a solid wood's frame, which is then manually carved by master craftsmen. Our creations then undergo the phase of wood finishing by manual lacquering or by the manual application of metal leaves. Our sofas are then manually upholstered using polyurethane foam and feathers for the padding. The finest leathers and velvets or silks give the final touch. ORSITALIA performs quality control tests in every phase of the production line, to always assure to our customers only the highest quality. Our strong point is the ability to offer tailor-made solutions, to fulfill every request of our customers.
HOW TO PERSONALIZE
Chester XS by Orsitalia have accurate finishes and tailor-made upholstery with leather buttons applied by hand one by one. Orsitalia customizes Chester XS armchairs with genuine European leathers available in a wide color palette or with Vintage effect. ORSITALIA customized Chester Xs little armchair with different kind of natural cotton or linen canvas, water repellent microfiber similar to Alcantara, wool, fire resistant fashion fake leathers, animalier textiles, classic damask satin. Wooden legs of Chetser Xs by Orsiitalia is polished or lacquered in accordance with request of customers.
CARE ISTRUCTIONS
For wood: avoid using solvents and abrasives, use to clean only a humid soft cloth. Remember the wood is alive, so do not put into too damp or too dry rooms.
For Velvets, wool, linen, satin, microfaser Alcantara-like: Vacuum cleaner or dry cleaning only.
For leather, faux fake leather: wipe off dirt lightly with a damp cotton white cloth.
Do not expose the product directly and for longtime to sunlight and never to the rain. It is a product for Interior Designs.