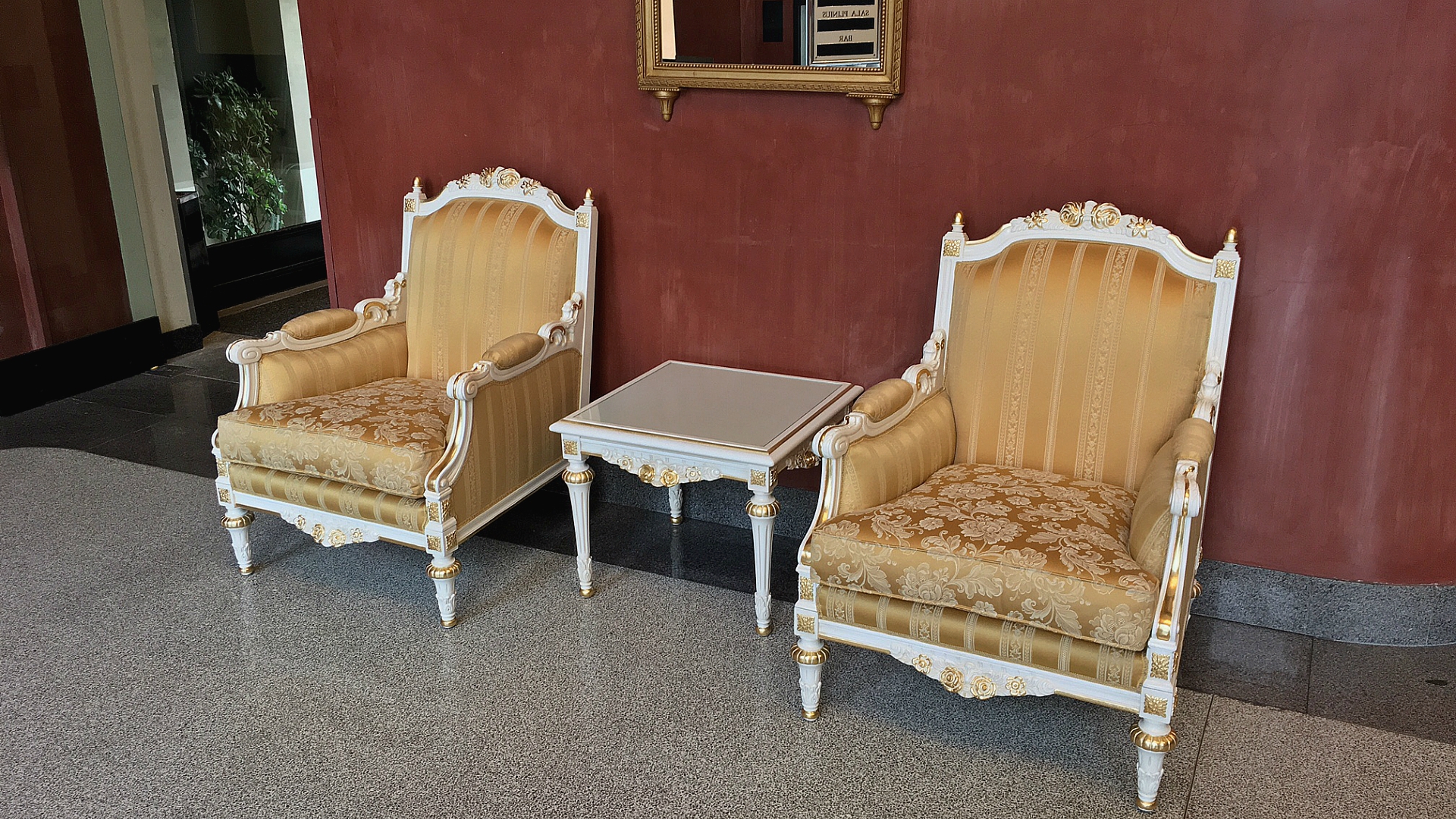 Orsitalia presents Impero furnishings collection, in carved wooden, composed by squared couches, armchairs, small end tables, big squared coffee table or rectangular one. Orsiitalia produces Impero sofa set, starting from wooden raw frames, completely in Italy. Orsi Italia custom-made Impero armchairs and the other pieces of furniture. In the photo you could see a customization of armchairs Impero that ORSITALIA has done for an hotel: white antique lacquering with golden decorations, gold damask and striped fire resistant satins, comfortable and longlasting seat cushions studied for Contract use, springs under the seat for intensive use. Orsiitalia have studied a special solution for Impero's coffee and side tables, made them on size and digging with laser the wooden top in order to put inside it a transparent tempered glass top.
The classic Empire sofas, loveseats, big coffee and small tables embodies the charm of the imperial period, classic and modern textiles exalts the elegance of wooden carving done by Orsi Italia. Orsitalia use also fire resistant satin suitable for hotel, restaurant, exclusive B and B or Resorts. The wood finishing are made by hand by Italian gilders to give special effects. All of this to create a masterpiece that can perfectly fit both in a luxurious baroque lounge and with classic design. Orsi Italia offers also a wide choice of natural marble or granite essences to choose as table's tops.
The production of all the handmade IMPERO classic furnishings of the collections ORSITALIA is characterized by the highest quality standards, typical of the best Italian craftsmanship, which is characterized by the exclusive use of selected raw materials and a careful attention to every detail, to ensure to our furnishings a perfect durability over the time. Call us we will drive you into our world.
Sizes:
Armchair: cm L. 80 x D. 90 x H. 107
Small Table: cm L. 60 x D. 60 x H. 48
Sofa 3 places: cm L. 190 x D. 90 x H. 115
Sofa 2 places: cm L. 140 x D. 90 x H. 115
Rectangular Coffee Table : cm L. 120 x D. 60 x H. 48
Square Coffee Table: cm L. 100 x D. 100 x H. 48
TECHICAL SPECIFICATION
All ORISTALIA's models are entirely handmade, like in the best Italian artisan tradition. We start creating our masterpieces from a solid wood's frame, which is then manually carved by master craftsmen. Our creations then undergo the phase of wood finishing by manual lacquering or by the manual application of metal leaves. Our sofas are then manually upholstered using polyurethane foam and feathers for the padding. The finest leathers and velvets or silks give the final touch. ORSITALIA performs quality control tests in every phase of the production line, to always assure to our customers only the highest quality. Our strong point is the ability to offer tailor-made solutions, to fulfill every request of our customers.
DIMENSION
Armchair: cm L. 80 x D. 90 x H. 107
Small Table: cm L. 60 x D. 60 x H. 48
Sofa 3 places: cm L. 190 x D. 90 x H. 115
Sofa 2 places: cm L. 140 x D. 90 x H. 115
Rectangular Coffee Table : cm L. 120 x D. 60 x H. 48
Square Coffee Table: cm L. 100 x D. 100 x H. 48
HOW TO PERSONALIZE
ORSITALIA offers the possibility of customizing every slight detail of our models.
Wood Frame: we offer more than 20 different finishing style:
- classic ones like: venetian lacquering, dark or honey walnut – mahogany – sherry – wenghé – "decapé" polishing;
- fashion ones like: silver or gold or aluminum leaf scratch proof, sanded wood brushed to temper in any color;
- modern ones like: all RAL colors matt or glossy glazing
Find more
Upholstery: ORSITALIA offers more than 40 different leathers and textiles, such as cotton velvet, fire proof velvet, silk satin, linen satin, damask velvet, eco leather even fireproof, genuine leather, eco fur.
After selecting the fabric of your interest you can select your perfect color, thanks to our vast offer we are able to find almost every existing color
Find more
Finishing: ORSITALIA offers custom-made solutions also for buttons and for the finishing touch of the upholstery as: different kinds of trimming, different kind of ribbons or different kind of nails.