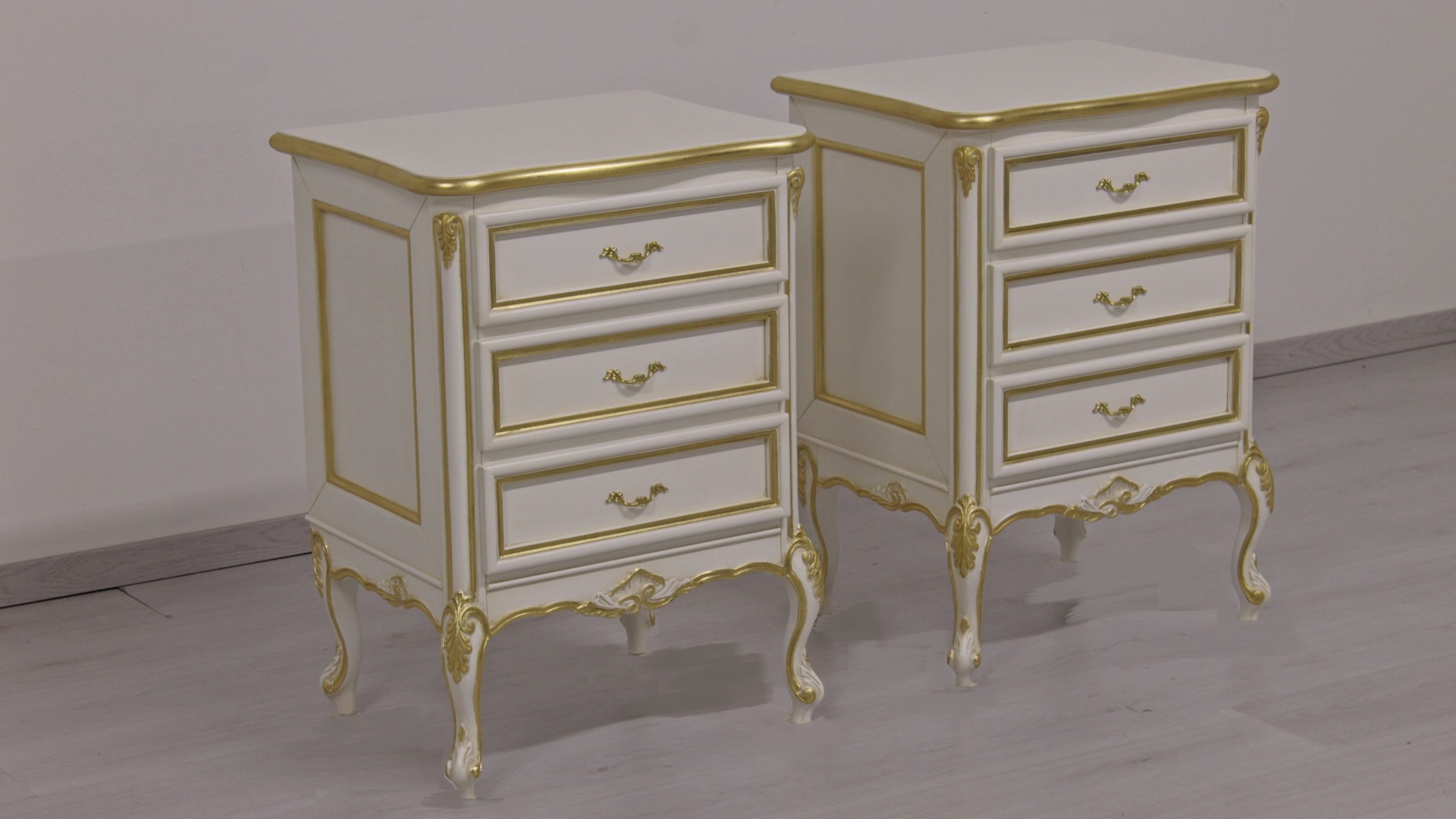 REGINA coppia di comodini squadrati intagliati 3 cassetti, intagliati in stile classico, laccati color crema/avorio con decori foglia oro Il comodini Regina della ORSITALIA è un mobile per camera da letto artigianale prodotto in Italia artigianalmente e personalizzato da ORSITALIA. Il comodino modello Regina di ORSITALIA in crema squadrato, con gambe intagliate, è composto di 3 cassetti ed è interamente costruito con legni pregiati provenienti da fonti sostenibili e decorato a mano dagli abili artigiani di Orsitalia sui vari lati con intagli ornamentali barocchi illuminati da foglie oro. Orsitalia personalizza tutti i mobili per la camera da letto di sua produzione, riproducendo l'antico stile classico francese, e rendendola un classico moderno con laccature contemporanee personalizzate. Il mobile con cassetti Regina può essere utilizzato come contenitore anche nell'ingresso di una casa o di una suite d'albergo. I mobili in stile Orsitalia completano armoniosamente il design e l'arredamento della tua camera da letto e creano un'atmosfera calda e accogliente.
Misure:
L. 56 P. 43 H. 76
SIZES
Bombe Nighstand 3-drawers: cm. 60 x D. 30 x H. 70


TECHICAL SPECIFICATION
All ORISTALIA's models are entirely handmade, like in the best Italian artisan tradition. We start creating our masterpieces from a solid wood's frame, which is then manually carved by master craftsmen. Our creations then undergo the phase of wood finishing by manual lacquering or by the manual application of metal leaves. Our sofas are then manually upholstered using polyurethane foam and feathers for the padding. The finest leathers and velvets or silks give the final touch. ORSITALIA performs quality control tests in every phase of the production line, to always assure to our customers only the highest quality. Our strong point is the ability to offer tailor-made solutions, to fulfill every request of our customers.
HOW TO PERSONALIZE
ORSITALIA offers the possibility of customizing every slight detail of our models.
Wood Frame: we offer more than 20 different finishing style:
- classic ones like: venetian lacquering, dark or honey walnut – mahogany – sherry – wenghé – "decapé" polishing;
- fashion ones like: silver or gold or aluminum leaf scratch proof, sanded wood brushed to temper in any color;
- modern ones like: all RAL colors matt or glossy glazing.
Custom handles and knobs both metal chormed or gilted and glass or Swarovski ones.

CARE ISTRUCTIONS
For wood: avoid using solvents and abrasives, use to clean only a humid soft cloth. Remember the wood is alive, so do not put into too damp or too dry rooms.
Do not expose the product directly and for longtime to sunlight and never to the rain. It is a product for Interior Designs.
Do not use adhesive tape on LEAF finishes