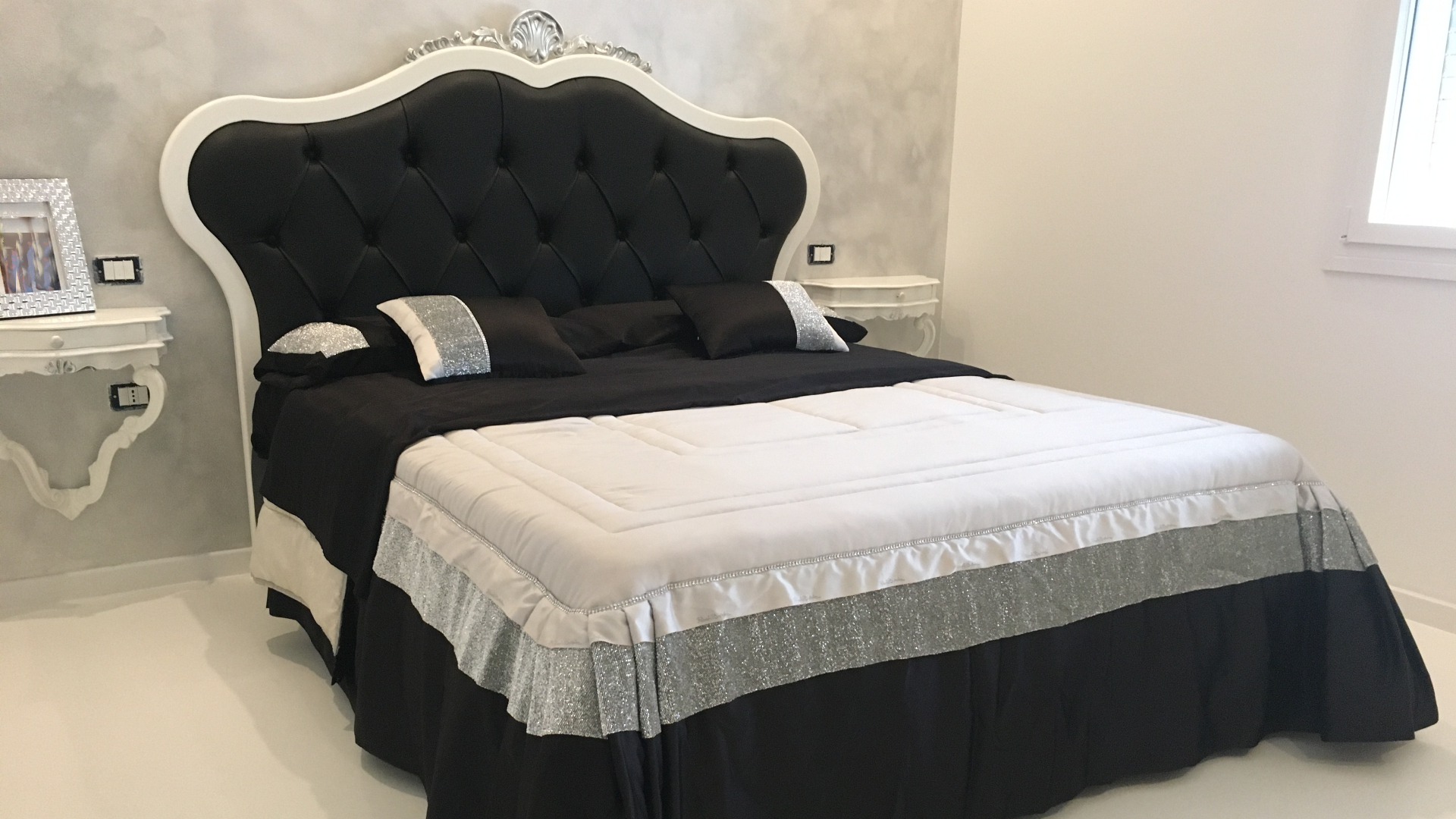 SARA NIGHSTAND by ORSITALIA: Contemporary Baroque nighstands to be hanged to the wall, with one drawer, of strong wood, customizable in wooden finishes and knobs by Orsitalia. Orsiitalia produces Sara nighstands with one drawer in two sizes: big nighstand or small one. Orsi Italia with its Italian handcrafting production guarantee to all their bedroom's fusnishings a high quality and longlasting.ORSITALIA's night accessories in new baroque style, offer luxurious and sophisticated lines, and they are manufactured completely in Italy by skilled Italian artisans of Orsi Italia. Orsitalia custom-made Sara small baroque nighstand and big one with full colored enamels, luxuous silvering or gild. Orsitalia gives a wide choice of handles or knobs: in Swarovsky, Murano's glass, chrome-plated or gold-plated in classic or modern style.
Orsitalia's young designer, Matteo Orlandin, will suggest you the best desdigns and technical solution for yr bespoke Living project.
SIZES
Nighstand Big : W. 81 x D. 31 x H. 75 cm.
Nightstand Small: W. 56 x D. 23 x H. 55 cm.
TECHICAL SPECIFICATION
All ORISTALIA's models are entirely handmade, like in the best Italian artisan tradition. We start creating our masterpieces from a solid wood's frame, which is then manually carved by master craftsmen. Our creations then undergo the phase of wood finishing by manual lacquering or by the manual application of metal leaves. Our sofas are then manually upholstered using polyurethane foam and feathers for the padding. The finest leathers and velvets or silks give the final touch. ORSITALIA performs quality control tests in every phase of the production line, to always assure to our customers only the highest quality. Our strong point is the ability to offer tailor-made solutions, to fulfill every request of our customers.
Technical features
model: Sara
article: Nighstands with one drawer to hang to the wall
frame: strong carved wood
wood finishing: can be customized
Knobs: can be customized (Swarovsky, glass, brass and metal chrome)
HOW TO PERSONALIZE
ORSITALIA customizes Sara big and small nighstands in wood finishing. You can choose between all RAL colors for Lacquering and for Leaf between silver and gold in different nuances of color for a contemporary bedroom piece of furniture. Sara Liberty nightstand is also available for classic bedrooms with traditional wooden finishes. Orsitalia gives also the possibility to choose knobs between Swarovski ones, crystal knobs and metal handles.
CARE ISTRUCTIONS
Avoid using solvents and abrasives, use to clean only a humid soft cloth. Remember the wood is alive, so do not put into too damp or too dry rooms.