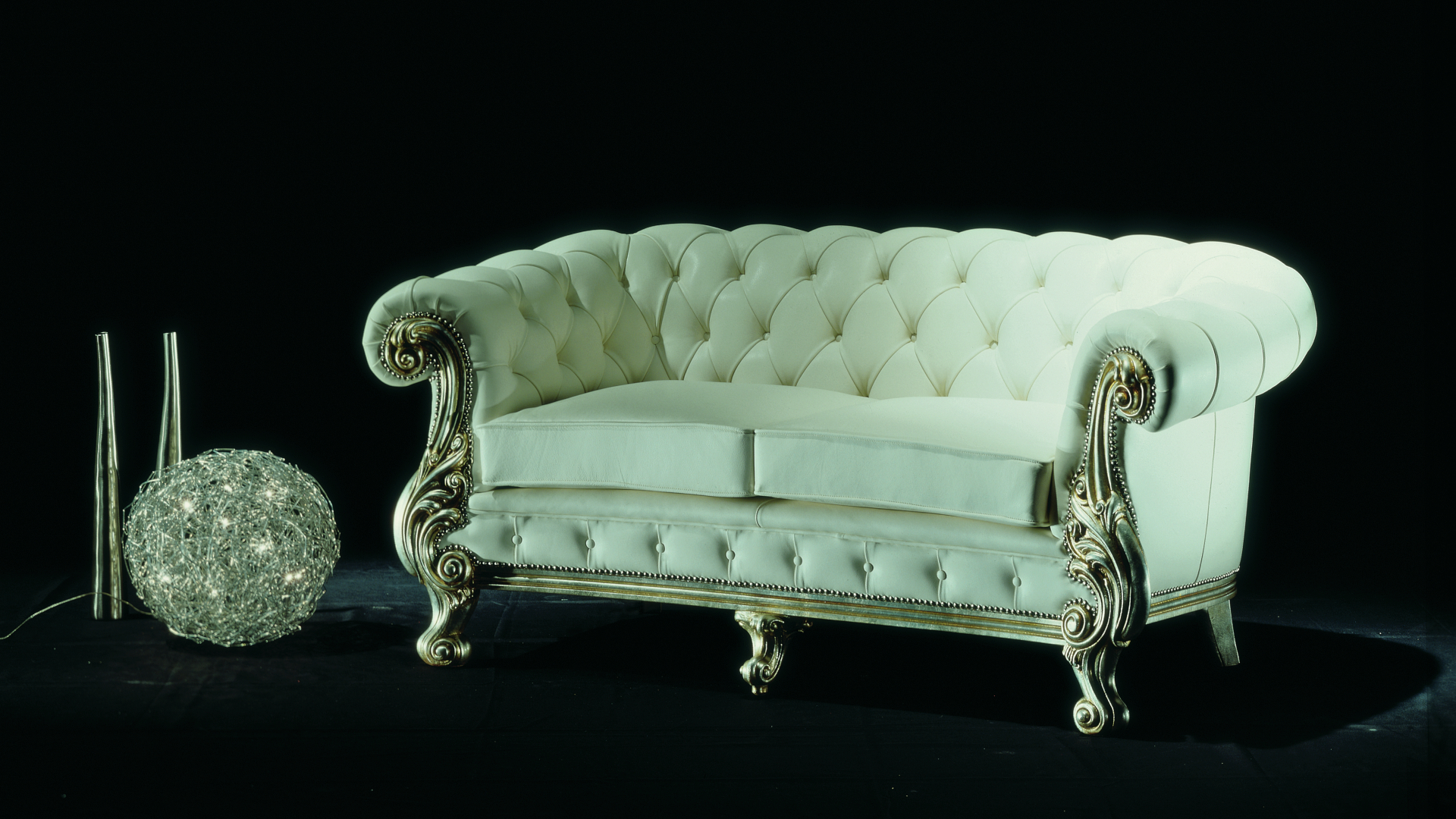 MANCHESTER 2-seater tub sofas 180 cm by ORSITALIA. Manchester classic French baroque Chster Style Settee in stain-proof fabric or grain leather. Manchester 2-seater sofa is a baroque chesterfield sofa with gilt or silver or white paint exposed wooden frame, rolled back and rolled arms tufted capitonnè by skilled ORSITALIA's craftsmen, custom textiles for covers. Orsitalia matches different colors for Manchester 2-seater: white and silver wood, cardinal red stain-proof fabric and white & gold paint wood, purple or capuccino leather and antique gilt frame. Trimmings and gold or nickel studs complete the overall picture of top Italian handicrafting classic chester 2-seater sofas MANCHESTER with baroque wooden legs produced by Orsitalia 100% in Meda-Italy. Manchester fabric contemporary classic tufted sofas with low backrest, designed by Orsitalia as a conversation or office or reception comfortable classic customized Settee. Manchester luxury tufted sofas in velvet or faux fake leather, elegant classic Italian living room or hotel furniture, are designed by Orsitalia for elegant Indoor Design; for luxury hotel hall or suite or classic entryway; for luxury management offices to create bespoke masterpieces that become the protagonists in any location. Orsitalia produces large sofas, customized, soft tufted with comfortable seats, to confer a classy touch and give prestige to any Indoor Design and also Contract one.
SIZES
Sofa 2 places: cm L. 180 x D. 100 x H. 85
Sofa 4 places: cm L. 280 x D. 100 x H. 85
Sofa 3 places: cm L. 230 x D. 100 x H. 85
Armchair: cm L. 115 x D. 100 x H. 85
Possibility of custom-made sizes

features
Manchester tufted classic sofas and armchairs by ORSITALIA are the top of bespoke handicrafting wooden Luxury Italian living room furniture.
Manchester tufted classic sofas and armchairs are customizable by Orsitalia because they are manufactured 100% in Italy. Orsitalia offers a wide choice of velvets, natural and synthetic, soft wool in many colors, cotton and linen canvas, fireresistant and fancy faux fake leather, long hair faux fur, contemporary damask velvets for Home Decor.
The upholstery of all Manchester furniture collection is handmade by Orsitalia craftmenship using poliurethane foam in different density, feathers for the seat cushion padding and elastic belts with spring to make very comforatble the seating into Manchester tufted classic couches and armchairs. Orsitalia's strong point is the craft to offer tailor-made solutions for Interior Design in classic Italian style
HOW TO PERSONALIZE
ORSITALIA offers the possibility of customizing every slight detail of our models.
Wood Frame: we offer more than 20 different finishing style:
- classic ones like: venetian lacquering, dark or honey walnut – mahogany – sherry – wenghé – "decapé" polishing;
- fashion ones like: silver or gold or aluminum leaf scratch proof, sanded wood brushed to temper in any color;
- modern ones like: all RAL colors matt or glossy glazing
Find more
Upholstery: ORSITALIA offers more than 40 different leathers and textiles, such as cotton velvet, fire proof velvet, silk satin, linen satin, damask velvet, eco leather even fireproof, genuine leather, eco fur.
After selecting the fabric of your interest you can select your perfect color, thanks to our vast offer we are able to find almost every existing color
Find more
Finishing: ORSITALIA offers custom-made solutions also for buttons and for the finishing touch of the upholstery as: different kinds of trimming, different kind of ribbons or different kind of nails.
care istructions
For wood: avoid using solvents and abrasives, use to clean only a humid soft cloth. Remember the wood is alive, so do not put into too damp or too dry rooms.
For Velvets, wool, linen, satin, microfaser similar Alcantara: Vacuum cleaner or dry cleaning only.
For leather, faux leather: wipe off dirt lightly with a damp cotton white cloth.
Do not expose the product directly and for longtime to sunlight and never to the rain. It is a product for Interior Design.