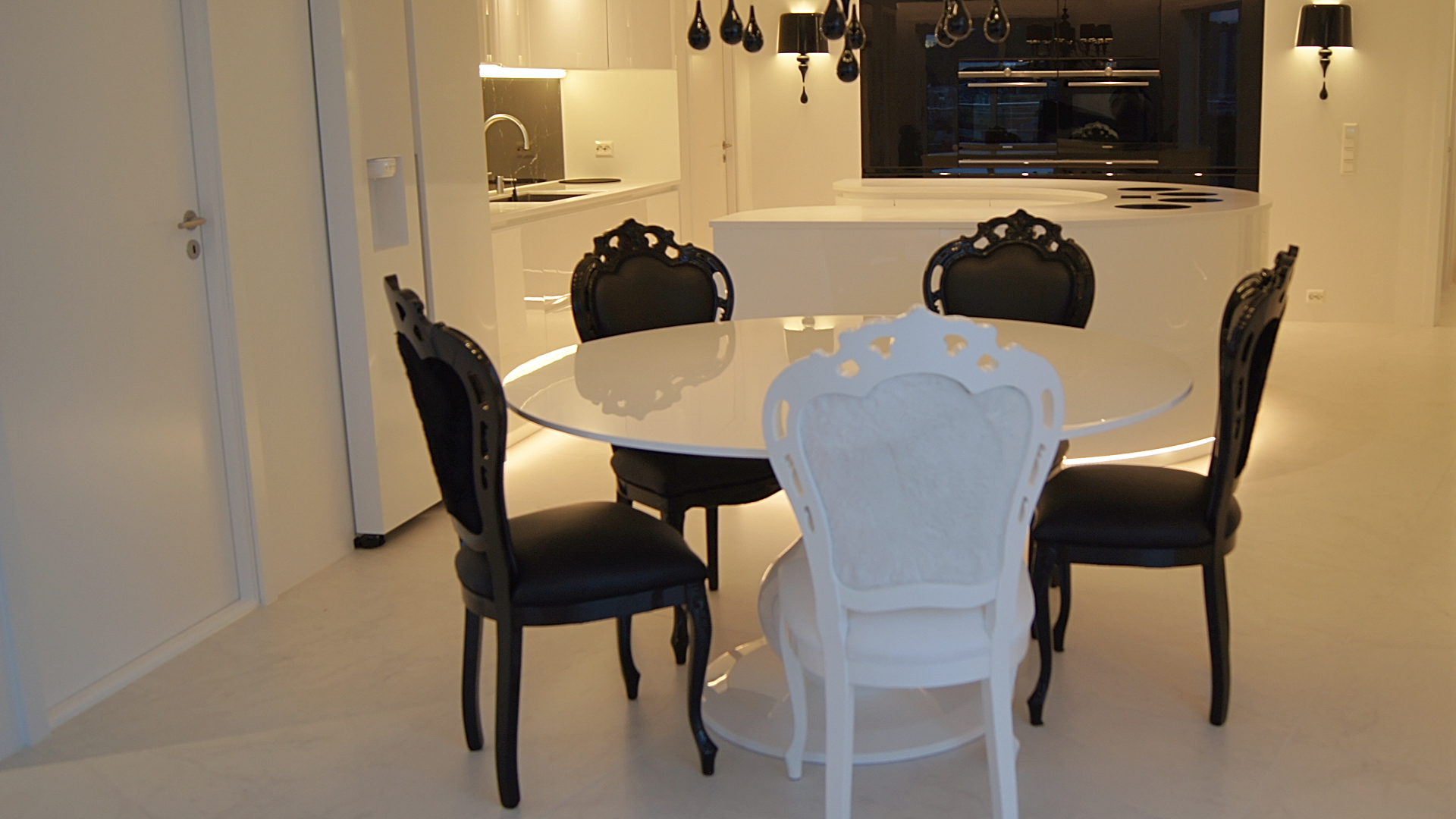 NEW BLACK silk-screened baroque base for an overall modern look dining chairs by ORSITALIA. New Black contemporary Italian French baroque chairs in real beech wood, laser wooden printed chairs gilt silver brooken white paintes, for bespoke home modern furnishings, tailor-made by Orsitalia completely in Italy.The NEW BLACK model silk-screened wooden chairs are also available with armrests, as head-of-the-table chairs for the dining table or as welcoming chairs in a reception, at the entrance of your home or hotel, in the classic bedroom. The Young designer of Orsitalia, Matteo Orlandin, has studied the contemporary luxury baroque chair NEW BLACK by removing the superfluous carvings and replacing them with precious silk-screen prints in the wood to better furnish contemporary spaces, NEW BLACK dining chairs and chairs with arms are always proposed by Orsiitalia as customizable chairs and armchairs for a bespoke Interior Design Project for hospitaly or home decor. Orsitalia for the modern French baroque chairs NEW BLACK used minimal glossy lacquers such as white and black combined with a matte leather covering, always white or black. Orsitalia makes available in the same colors, or even in stronger colors, Italian Trevira velvets – fire retardant eco-leathers of Italian production and much more. The NEW BLACK living room chairs by Orsitalia become so glamorous but always maintain the high quality craftsmanship of the best Italian manufacture. NEW BLACK dining chairs are produced by Orsitalia with ergonomic and high backrest to ensure long-lasting comfort and the seat is wide. Orsitalia produces the NEW BLACK dining chair with customized colors for the baroque structure and also for the upholstery various fabrics are available to combine with each other, to always create an exclusive luxury Italian design furniture. There is no limit to the creativity of Orsiitalia.
SIZES
Chair: W.49 x D.56 x H.106 - seat H.51 cm.
Chair with arms: W. 61 x D. 56 x H. 106 - seat H. 51 cm.
FEATURES
All ORISTALIA's models are entirely handmade, like in the best Italian artisan tradition. We start creating our masterpieces from a solid wood's frame, which is then manually carved by master craftsmen. Our creations then undergo the phase of wood finishing by manual lacquering or by the manual application of metal leaves. Our chairs are then manually upholstered using polyurethane foam in different density to give the best comfort and durability. The finest leathers and velvets or silks give the final touch. ORSITALIA performs quality control tests in every phase of the production line, to always assure to our customers only the highest quality. Our strong point is the ability to offer tailor-made solutions, to fulfill every request of our customers.
Model: Black
Item: dinner chairs, 100% Made in Italy
Frame: strong beech wood, carved
Wood finishing: wide palette of colors for lacquering; silvered; gilted; classic wood finishings or special custom-made polishing.
Upholstery: tailor-made by Italian handicraftsmen. Wide choice of textiles as: fire resistant fake leathers; stain resistant textiles; velvet; satin; grain leather. Orsitalia will support you for free to combine together different textiles or different colors to create your own customized living corner.
HOW TO PERSONALIZE
The Black chair can be customized and tailored by ORSITALIA with wide range of wood polishing and also with many washable and fire resistant fake leathers or velvets easy to clean with a large choice of colors palettes. Orsitalia start manufacturing from raw frames so you could choice the color and the polish of your chairs without any additional cost; as well as the kind of textile you prefer to cover your chairs and the color. Orsitalia gives a free stylistic consultancy service to best customize cutomer's projects.
CARE ISTRUCTIONS
Frame maintenance: soft cloth for dust and little damp for stains. Do not use any chimical cleaning products. Remember: wood is natural material and it is alive.
Textile maintenance: up to textile chosen. All technical details can be seen in our technical sheet on Materials area.