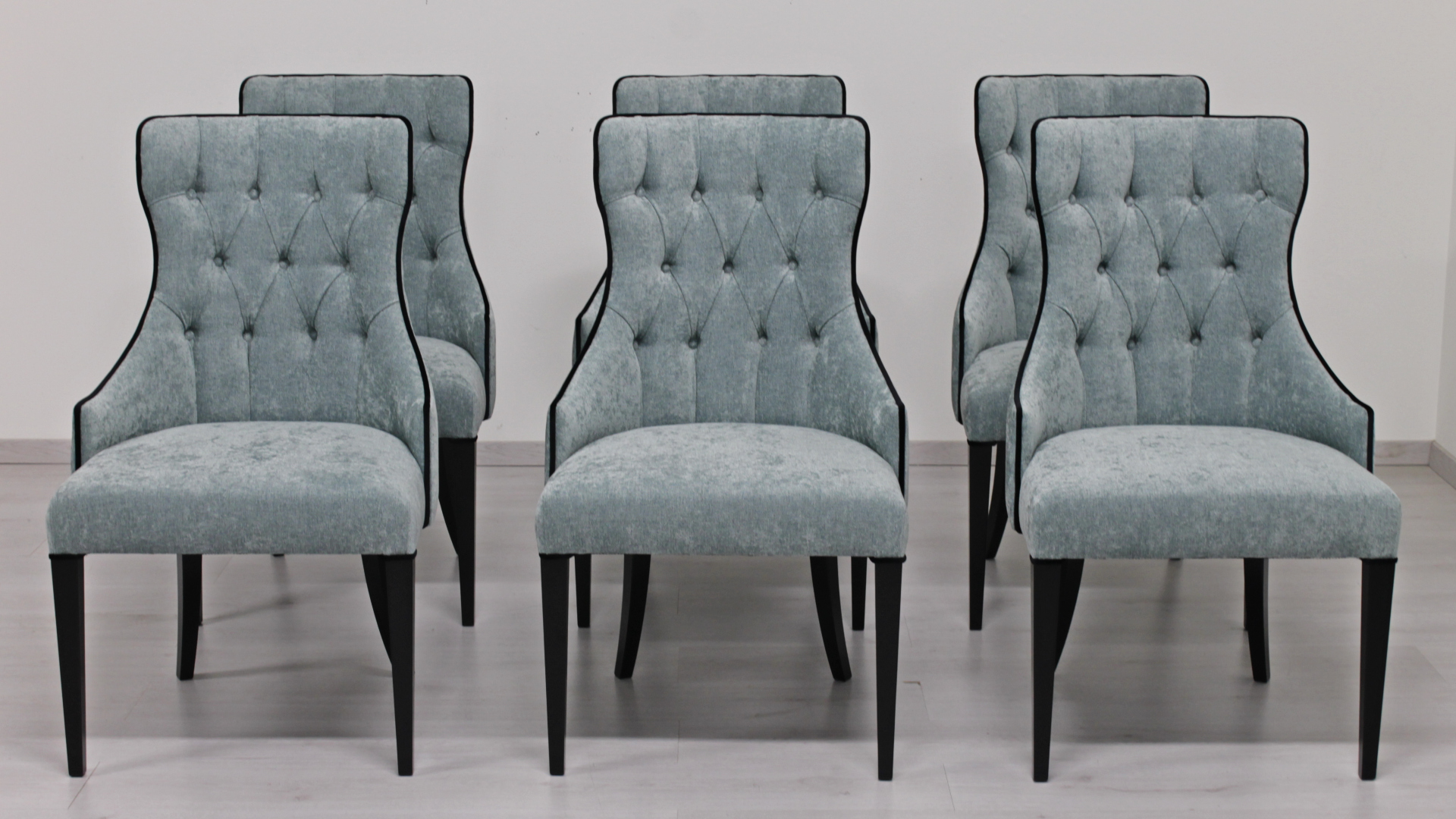 VOGUE U shaped contemporary tufted dining chairs by ORSITALIA – From Orsitalia's top luxury Living Room modern collection. Vogue, art deco tailor-made U-shaped buttoned chairs for contemporary living in Milano style handmade by Italian craftsmen of ORSITALIA. Orsitalia presents VOGUE U shaped dining chair bespoke art deco buttoned upholstered chair enveloping in the curved silhouette with profile in dark color to emphasize the peculiar detail of the shaped backrest that hugs the body for great comfort. Orsi Italia customize Vogue living accent chairs, with tall wingback tufted, using stain proof fake Nubuk and hydrorepellent microfaser Alcantara-like covering, Teflon velvets, Aquaclean textiles in a wide palette of colors is at yr disposal. Orsitalia, to make Vougue art deco inspired button upholstered chairs more beautiful, finishes them with braid cord in contrast as showed in the photo: beige ecru with chocolate or black braid cords.VOGUE shelby accent chairs by Orsitalia are hand tufted in Brianza, 30 km. north of Milan, by skilled handicraftsmen, to grant Italian quality that makes Italy great and exclusive in the world. Vogue's wooden legs can be polished in walnut canaletto or wenghe or black or ebony paint, both glossy or matt, to better fit to any location both for home decor and luxury Interior Design Italian style.The Vogue luxury furniture collection also includes wide and tall bar stools for exclusive kitchens.
SIZES
W.60 x D.62 x H.100 - seat H.53 cm.
FEATURES
All ORSITALIA's models are entirely handmade, like in the best Italian artisan tradition. We start creating our masterpieces from a solid wood's frame. Vogue chairs and high stools have been customized by Orsitalia enlarging the seat, to make bigger bergère chairs, and have been enphasized the swing ears to wrap you comfortably. Our creations then undergo the phase of wood finishing by manual polishing or lacquering. Our chairs are then handicrafting upholstered using polyurethane foam in different density to give the best comfort and durability. Orsitalia's tailoring tufting give a character to Vogue chairs and bar stools. Orsitalia uses to cover water repellent luxury fabrics, full grain leathers, special fabrics PFC Free and Safe Front Hygenic protection. ORSITALIA performs quality control tests in every phase of the production line, to always assure to our customers only the highest quality. Our strong point is the ability to offer tailor-made solutions, to fulfill every request of our customers.
HOW TO PERSONALIZE
Vogue tufted deco dinner chairs can be customized and tailored by ORSITALIA with wide range of wood polishing and also with many washable and fire resistant fake leathers or velvets easy to clean with a large choice of colors palettes. Orsitalia start manufacturing from raw frames and thanks to their skillness and experiences from over 50 years offer bespoke technical and design solutions.
CARE ISTRUCTIONS
For wood: avoid using solvents and abrasives, use to clean only a humid soft cloth. Remember the wood is alive, so do not put into too damp or too dry rooms.
For Velvets, wool, linen, satin, microfaser: Vacuum cleaner or dry cleaning only.
For leather, fake leather: wipe off dirt lightly with a damp cotton white cloth.
AcquaClean fabrics: use only water to take off stains, according to textiles producer's maintenance istructions.
Do not expose the product directly and for longtime to sunlight and never to the rain. It is a product for Interior Designs.