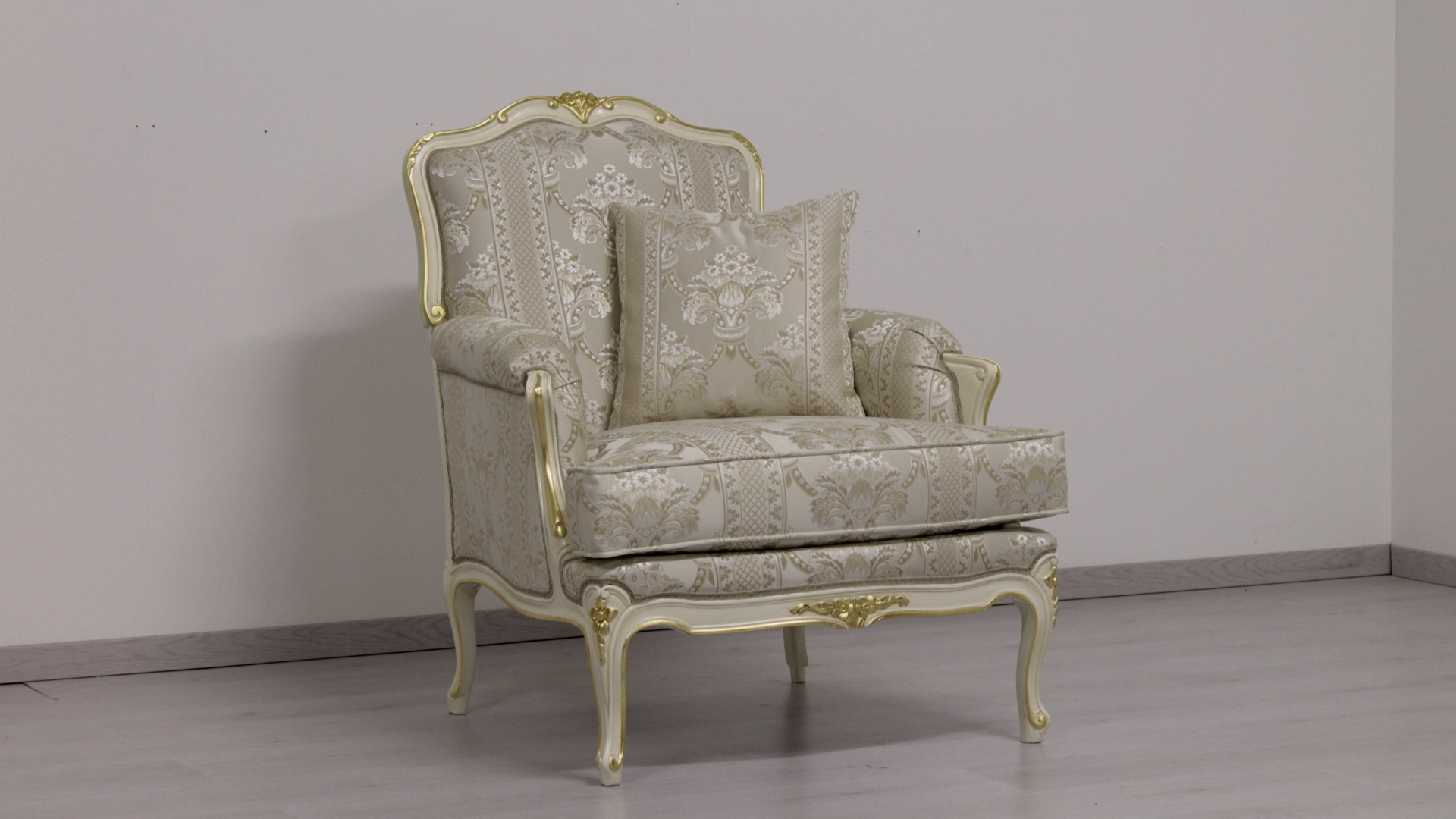 NOBLESSE classic luxury chairs 100% made in Italy by ORSITALIA: modern classic interior designs – french baroque – luxury classic furniture brand ORSITALIA.The Louis XVI Armchair NOBLESSE has the perfect balance between regal French design and the understated Swedish style and it has been customized by Orsiitalia according to parisian glam room decor inspiration. Noblesse ivory and gold french style sofa chair has curved and wavy lines in strong carved wood to create vintage french Louis XVI style gilt ornate rococo living room furniture, the top of Italian handicraft production of Orsi Italia. Orsiitalia complete Noblesse armchairs late baroque lacquered with Italian cloth, preferably with a lush rich ornamentation on the fabric, 100% Italian production. NOBLESSE arm french furniture for luxury living room is produced by Orsiitalia also for Hospitality Indoor Projects, using to cover, the 18TH century Italian lacquered gold carved wood Noblesse armchairs, Italian fire resistant velvets, grain leathers and fire-proof faux fake leathers available in many colors to better fit to any Villas Contract Project.
SIZES
Armchair W. 78 X D. 89 X H. 96 cm.
Sofa 3-places L. 200 X D. 90 X H. 96 cm.
Sofa 2-places L. 142 X D. 90 X H. 96 cm.
FEATURES
Armchair Noblesse, Italian baroque style, has the frame in strong Beech carved wood.
Orsitalia offers a wide choice of wood finishes as white and gold lacquering, ivory and gold lacquering, gilt and silver leaf, shabby chic polishing etc.
Upholstery: comfortable and soft cushions seat and ergonomic plain backrest, always tailor-made using variable-density polyurethane foam. Seat suspension provided by crossed elastic webbing and springs.
On the backrest can be used Swarovski buttons or can be written a Logo or a name with Swarovski crystal or with an embroidery or we can make a buttoned Louis chair in french style.
Covers: custom-made with a wide choice of textile and leathers as: matt or glossy velvets, silk, wool, fire-proof fake leather, linen, cotton fabric, wool, fake fur, grain and vintage leather.
HOW TO PERSONALIZE
ORSITALIA offers the possibility of customizing every slight detail of our models.
This product is made to order according to your unique specification. Choose a colour from our Materials page on our website or contact us and explain your needs. Paint finishes are available in matt, satin or gloss and textile offered to cover Noblesse French classic armchairs includes damask satin, jacquard damask velvet, uni-colored velvets, silk etc.
CARE ISTRUCTIONS
For wood: avoid using solvents and abrasives, use to clean only a humid soft cloth. Remember the wood is alive, so do not put into too damp or too dry rooms.
For Velvets, wool, linen, satin, microfaser Alcantara-like: Vacuum cleaner or dry cleaning only.
For leather, faux fake leather: wipe off dirt lightly with a damp cotton white cloth.
Do not expose the product directly and for longtime to sunlight and never to the rain. It is a product for Interior Designs.